How did we get here?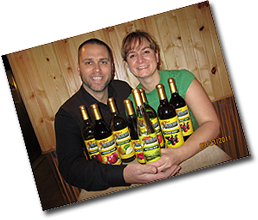 Along came an opportunity that I half-heartedly took in August 2005, a roadside stand selling peaches. A few years later in 2008 came the vision and passion for what I could be, a winery. But way before any of this came a rich farming history.
My family has been farming in Oceana County for five generations. My parents, Michael & Lorraine Chase along with my grandparents, Miles & Lena Chase, were frozen food processors (Chase Farms, Inc.) and fruit & vegetable farmers. My great-grandparents, Elwin & Zoa Chase were dairy & grain farmers as well as my great-great grandparents Cynthia & Ernest Chase.
I spent my childhood around many aspects of farming. From picking asparagus to packaging fresh cut zucchini. Many of the tasks I did not like but am grateful now for all it has taught me about how the food we grow gets to our table.
So, how did I become a Fox?
In 1991 I married Todd Fox and he too has a rich farming history in Oceana County. His parents Bruce & Kathy manage and operate the family's 2100 acres (N.J. Fox & Sons, Inc.). His grandparents, Roy & Ruth managed operations prior. His great-grandparents, N.J. & Edith Fox founded the company in 1947. Todd works alongside his father in a business that encompasses 1700 acres of farmland in production, tart cherry processing plant, fresh apple packaging facility and trucking company.